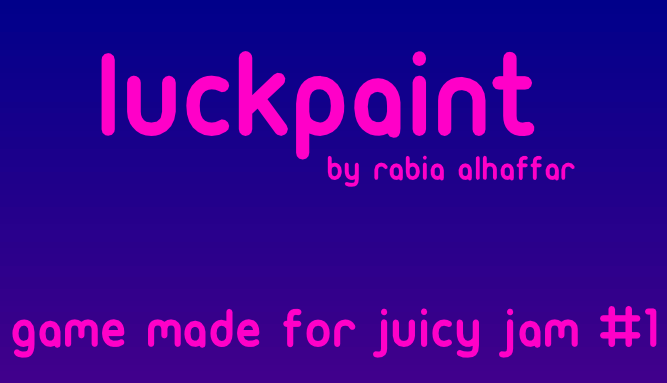 luckpaint
Luckpaint

NOTE
If HTML5 version crashes in your browser, Please download native version of the game from downloads!


Brief
Hi there! :)
luckpaint is 8x8 pixel art painting game i tried to make in 48 hours just for Juicy Jam #1 under the theme "Luck".
Q: Huh, Where luck can be in game like this?
A: Well, The game generates random color palette for all game levels when you play it, Making your luck to paint good or ugly images!


How to Play?
1. Paint with mouse click on pixels
2. For changing selected color from palette: Click with mouse on color rectangle or hit key with same number on the color rectangle (Hit 1 to Select color 1)
3. S to Take screenshot
4. R to Restart game (Can be needy in some cases)
5. Escape to exit/pause game

FAQ
Q1: There is no save button for game options or even game levels, Why?
A1: Easy, Because when you press back, Game saves settings automatically, Same applies when finishing a level in the game!
Q2: How many levels game has?
A2: Over 30 levels, Approximately 32 levels i think so...
Q3: Can i change game modes from options?
A3: Yep you can do it if you have selected painting mode by mistake!
Q4: What this game made with?
A4: This game made with DragonRuby Game Toolkit in Ruby programming language, It's implemeneted on top of the fast and minimal Ruby implementation mruby, You can get it here: https://dragonruby.org
Q5: Can i have source code?
A5: Yes you can and it's licensed under MIT, See here: https://github.com/Rabios/luckpaint
Q6: What if i had bug in the game?
A6: Easy, Go to https://github.com/Rabios/luckpaint/issues and create new issue describing bug happen!

THIRD PARTY

Images
1. Background used for the game, Which is gradient from xmple.com: https://www.xmple.com/wallpaper/gradient-purple-blue-linear--c2-00008b-8b008b-a-...

Sounds
1. https://freesound.org/people/greenvwbeetle/sounds/244657
2. https://freesound.org/people/old_waveplay/sounds/399934/
(Licensed under Creative Commons 0 License)
3. https://freesound.org/people/jens.enk/sounds/434612/
(Licensed under Creative Commons Attribution License)
Fonts
1. Ubuntu Titling font by Andrew Fitzsimon: https://www.fontsquirrel.com/fonts/ubuntu-title
(Licensed under GNU Lesser General Public License)
| | |
| --- | --- |
| Status | Released |
| Platforms | Windows, macOS, Linux, Android, HTML5 |
| Release date | May 05, 2021 |
| Author | steria773 |
| Made with | DragonRuby GTK, Piskel |
| Tags | Casual, dragonruby, Painting |
| Code license | MIT License |
| Average session | About a half-hour |
| Languages | English |
| Inputs | Keyboard, Mouse, Touchscreen |
| Accessibility | Textless |
| Links | Source code, Support |
Download
Click download now to get access to the following files:
luckpaint-linux-amd64-v0.4.zip
3 MB
luckpaint-linux-raspberrypi-v0.4.zip
3 MB
luckpaint-macos-v0.4.zip
4 MB
luckpaint-windows-amd64-v0.4.zip
3 MB
luckpaint-android-v0.4.apk
7 MB